---
Dear Friends,
Happy Easter! Today, we celebrate our risen Lord, whose resurrection gives us assurance that all who die in Him will also rise again in Him. As we partake in Holy Communion at church or enjoy an Easter meal at home, Dr. Linzay Rinquest reminds us that our eating and drinking in the Lord not only look back to Christ's Last Supper, but also look forward to the Lamb's Wedding Supper.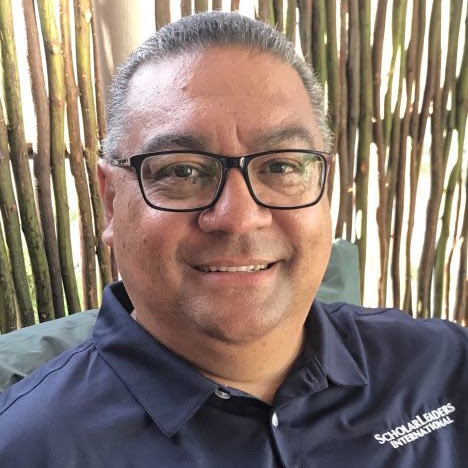 Linzay joined the ScholarLeaders team in 2020, bringing over a decade of executive leadership experience. From 2006 to 2019, he was Principal/CEO of Cape Town Baptist Seminary in South Africa. In 2018, he also served as President of the Baptist Union of Southern Africa.
As Engagement Director of ScholarLeaders' Vital Sustainability Initiative, Linzay guides seminary leaders in strategizing for institutional health and missional efficacy. Check out his 2021 InSights Journal article: "Principles and Practices for Fundraising by Majority World Seminaries." Linzay lives in Cape Town with his wife Colleen and their three children.

Linzay shares the following reflection:
An African Last Supper

Many images and symbols remind us of the events leading up to and following the first Easter. An Easter artwork that has intrigued me for many years is Leonardo da Vinci's famous fresco, "The Last Supper." The depicted setting resembles a late fifteenth century Italian villa rather than a first century Judean upper room.
African Christian communities celebrate and remember Easter in several ways, including with various worship services over Holy Week or only over Easter weekend. Some will celebrate a minimalist "service of the shadows," followed by Good Friday and Easter Sunday services, possibly including an Easter Sunday sunrise service.

The weekend will invariably involve a celebration of Holy Communion. Some may reenact the Last Supper as a Jewish Passover meal. In my own local African culture, with European, Indian, Indonesian, and Malaysian influences, we eat curried pickled fish and hot cross buns as a merging of the Jewish Passover meal and the Christian Easter feast!
In most African cultures, mealtimes are very important, as they gather and bind a community together. Meals sometimes also carry significant religious meaning. That is why hospitality is a key characteristic of African culture. Meals of celebration and remembrance are communal events and traditionally involve eating from a common pot or large serving dish. There is an African proverb that says, "Even the best cooking pot will not produce food!" What matters is who does the cooking, how the ingredients are prepared, and the guests' enjoyment of the meal.
A few years ago, I marveled at the intricacy of a wood carving, depicting Da Vinci's "Last Supper," found in The Upper Room Chapel in Nashville, Tennessee. The beautiful carving reminded me of a much smaller sculpture I had seen in the office of a missions professor at one of our local universities. He had purchased it while traveling through Malawi because it was a truly African depiction of the Last Supper. Over the years, I have seen a variety of African artistic expressions of the Last Supper that reflect local settings and familiar foods – and, of course, show Jesus and the disciples looking like Africans.
When guests leave our home after a meal, we typically send them off by saying, "'til next time!" The sentiment is similar when we celebrate Easter. Jesus said, "I will not drink from this fruit of the vine from now on until that day when I drink it new with you in my Father's kingdom" (Matt. 26:29 NIV). The Apostle Paul reminds us that when we eat the bread and drink the cup, we do it in remembrance of Him, until He comes again (1 Cor. 11:23-26).

Our celebrations of Easter, and our eating and drinking to mark the occasion, look forward to the day when we will all gather at the great Marriage Supper of the Lamb (Rev. 19:9). May our remembrance of the Last Supper be a reminder and anticipation of the Supper that is to come!

Linzay Rinquest